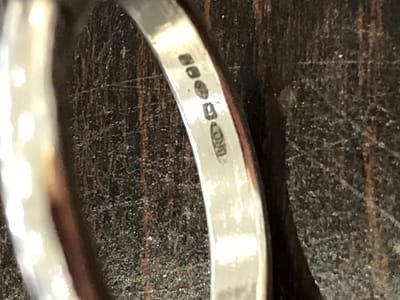 Our seaglass jewellery is very durable but there are some things you can do to prolong the shine, health and longevity of your Sterling silver jewellery.
Firstly, lets state the obvious. Dont wear your jewellery whilst operating heavy machinery or machinery with fast moving parts. Yes i know!
Our jewellery is made to the highest standards. Where possible the jump rings have been soldered for strength or we use oval jump rings that take the pressures of being pulled around on the solid silver part, rather than the split. All this makes your jewellery stronger, a good thing, unless its trapped in moving machinery!! Play it safe, for both you and your jewellery!
Cleaning
Like anything, a good clean, once in a while, will have your jewellery looking as new. However there are a couple of things we should mention;
* Please don't use your silver dip jars to clean jewellery containing sea glass. This can discolour some sea glass and in some cases even damage the silver.A simple silver cloth and a bit of elbow grease will suffice in most cases to remove any tarnishing. The best way to prevent tarnish is to wear and enjoy your little bit of Cornwall!
If not and your well worn piece needs a darned good clean, get in touch and we can begin by giving it a special ultra sonic bath which will safely remove most dirt and put the shine back!!
* Its worth noting that any jewellery shouldn't be contaminated by washing soaps, perfume and the like. Your jewellery will retain its shine for much longer if you remove it during bathing and washing dishes etc.
Be wary of putting any product on your jewellery. When you receive it it will have an anti tarnish polish applied. This will wear off in time and simple cleaning with a polishing cloth should always suffice and restore shine.
Seaglass
Seaglass has a naturally frosted appearance and many people like to see this. It shows that the sea glass is genuine along with c shape marks on the glass, made by the sea and sand etc. fake seaglass is easily spotted because of its smoothness and cost, especially when you are purchasing rare colours like yellow, pink, grey etc.
This frosted look on genuine seaglass will disappear , giving a gorgeous sheen if a little oil is applied to the glass. This in no way harms it and should you hate the new look, simply wash the oil off and frosted will reappear after a very short time.
Oils
We recommend using coconut oil as it is a very light oil that doesn't tend to mark clothing. Here at A little bit of Cornwall we use a fairtrade, organic coconut oil that is solid at room temperature. Wiping a cloth across the top is all the oil you will need.
Hallmarking
We hallmark all our rings, even though they are mostly below the weight where they are required to be hallmarked. We find this aids authenticity and is valued when jewellery is gifted. All our jewellery that is over 7.7g in weight is hallmarked as required by law. Our pendants that are hallmarked will say so in the description. Should you wish, a piece you have your heart set on , can be hallmarked for you. Just ask. There is a small charge for this and the process can take a week or two.
Refunds and returns
We try hard to make sure all our products are strong resilient and as described. There will be times when something is ordered in error or breaks for no apparent reason. In these events, please message me. We will do all we can to sort the problem out and of course all statutory rights are upheld. Unless previously agreed with myself, more personal products, like earrings for pierced ears, cannot be returned unless faulty.
I always do my best to be helpful and love getting commissions for special items made to your design but I have to ask for a small deposit in these cases.
​There are full ts and Cs at the end of this website.